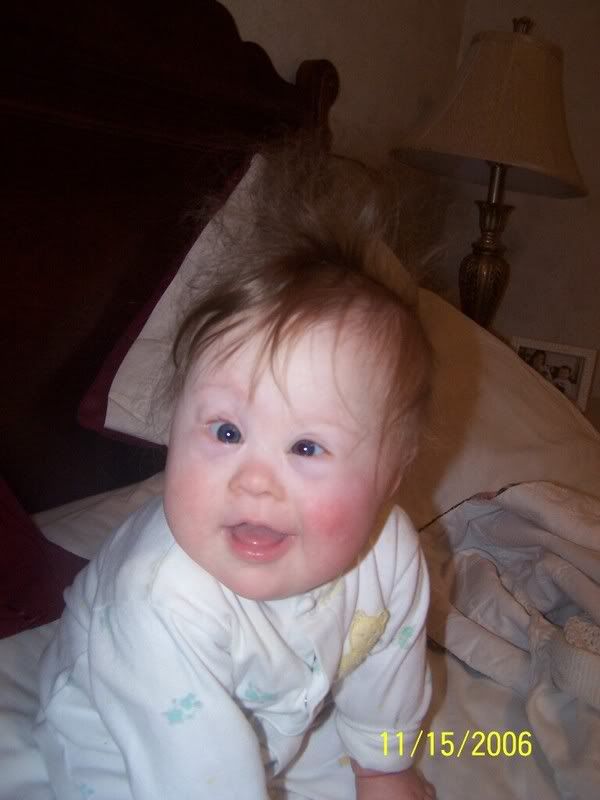 This is a typical look for Mayson every morning. She gives me the biggest smile along with hair that is sticking up as high as it can... She turned 9 months today. I cant believe it....I swear I just had her!!
She had her 9 month appointment today. She weighed 15 lbs 9 oz and was 25 3/4 inches long. Shes a little tot... built like her big brother and sister. She has also developed lazy eye. The doctor thinks it looks worse than it really is due to her facial features but we are headed to the opthomologist in December.
We have been working on picking things up with our fingers... she does well at this. Those little Gerber puffs are perfect for this, but she still doesnt understand those little things are something for her to eat! We have also tried the Gerber biter biscuits and she loves to knaw on them. She will pick that off her tray and put it in her mouth with no problems... so maybe she just doenst like those little puffs!
Her latest word is DADADADADADADADA.... of course its NOT MAMA. I mean she spends all day with me so why would she say MAMA first???? --Geez!#$%*
Her sitting skills are great now. She can sit and play with ease. It makes her a very happy baby. She loves to stand as well, but is still wobbely. Our next hurdle is staying on all 4s. She is getting there. It all takes time.......