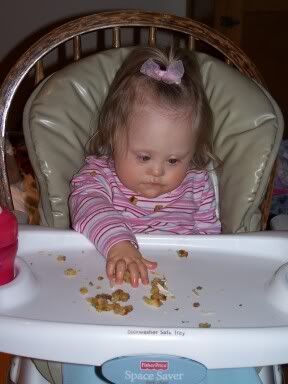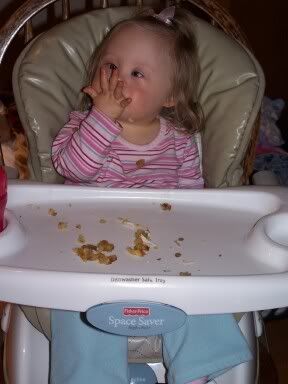 For the longest time we have had to spoon feed Mayson everything. Her first obstacle is she still has NO teeth! So we are limited to the foods she can eat. Her second issue is she picks up small things with her pincher fingers and chuck them on the floor. MMMM..... Is she expecting mommy to feed her, or is she being lazy or does she just not get that what is on her tray is food???
Well, a couple of weeks ago, it clicked. I dont know what clicked, but it did and she is shoving food in her mouth like a little piggy!! Tonite we had chicken, corn, mashed potatoes and stuffing. I put the chicken and stuffing on her tray and she eat all of it by feeding herself!! She also tried strawberry milk for the first time and I have never seen her drink a sippy cup full, all in one setting. WOW!!
THIS MAKES FOR ONE HAPPY MAMA!!!