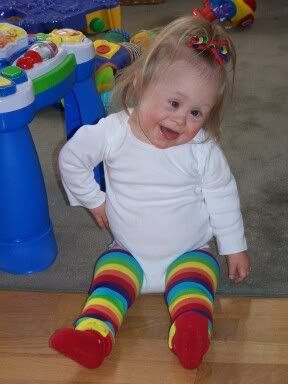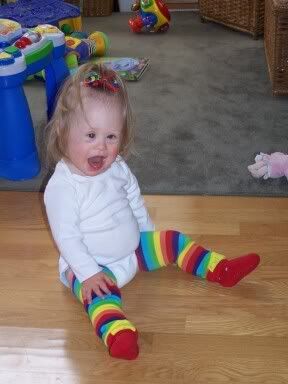 I thought it was time for a little update on everything Mayson has been doing. We had therapy twice this week already. Speech on Monday and Early education this morning. She did so great in speech. She doesn't have any oral issues that so many kids have with Down syndrome. She is trying to mimic and can say ball, mama, dada, duck, and num num. She also shakes her head NO and waves hi and bye. Clapping proudly at her self is something she is very good at! She also can do the itsy bitsy spider hand movements when I sing the song to her. Another favorite is peek a boo with her blankie. Her newest trick this week is showing us were her tummy is. She pats her tummy so proudly with a huge smile!!!
Mayson is still not walking. She pulls up to most things she can and scoots on her butt to get from point A to B. For some reason she has never wanted to crawl! She can walk around her leap frog table while holding on and will hold daddy's hands and walk to me. She is still wobbly but at least she is showing interest! Our friends gave us a little toy she can ride and she can now ride it all by herself! She as really made a lot of progress these last few months. We are sooo proud of her!
We did go to the eye doctor last week. She will not for the life of me keep those darn things on. We are thinking they are just too small and tight. We we will be ordering new ones. I want to find some lightweight ones that will more comfy. Any suggestions???? Her prescription has not changed and her muscles are better but she will still need eye surgery to correct her congenital estropia around the age of 21/2 -3. Oh well, we have been so lucky for her health that I am so greatful thats the only surgery we will have to have!!!!