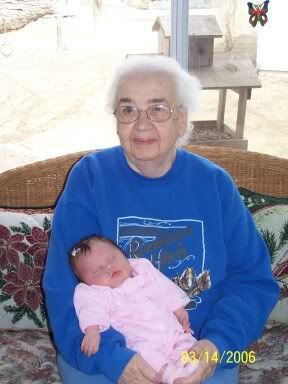 Well, Grama is now out of ICU and doing somewhat better. They found she has colitis which is where the bleeding was. They had to give her some blood as well and she developed a fever which came and went. All her other tests came back good so THANK YOU all for the prayers!!!!
She is on some oxygen today and she has fever again. They think she may be fighting some pnemonia now...if its not one thing its another! She did eat well and my mom said she sounded good on the phone!
Here is a picture of my Grama with Mayson......I believe Mayson is her 37th great grandchild!!