Last night our tree looked so pretty in the dark, I thought I would share it with you! It's filled with ornaments that my parents and my in-laws have thoughtfully given us. When putting these on the tree, the kids remember who gave them which ornament and why. Our tree is full of fun memories!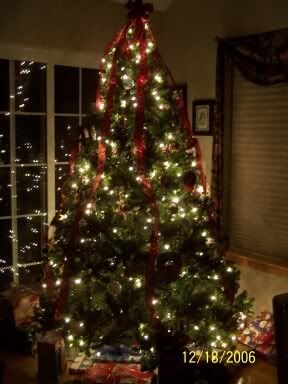 A few weeks ago my dad called Rylee and asked her if she would like his nativity scene he got as a child. She was soooo excited about this. She has it displayed nicely next to our fireplace. I remember putting it up every year at home when I was little. We would play with it too, hence the chipped ears on the camel! How special that Rylee now gets it and can make her own memories with it like my dad and I did.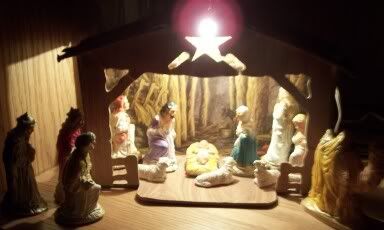 Oh and here is the fireplace decorated..Its not the best decorating as I havent had the time I normally have had with a new baby in the house! But at least the stockings were hung with care in the hopes of St. Nick!
Heres hoping your home is filled with Christmas cheer!