I wrote this Christmas day hoping to add our family picture.. its been 3 days now and I finally got to post pictures......so this is late..sorry!


Hard to believe Christmas is here and went. We had a wonderful Christmas this year. Saturday we spent the day at my in laws. We were minus a few people but still managed to have a nice time. Sunday was the day we spent with my side of the family. My parents and my bro and sis and their families all went to the candlelight service at church and then came back here and had a turkey dinner. We opened presents and watched out traditional movie..."A Christmas Story". We could watch the movie over and over!! This morning consisted of Santa's gifts and filled stockings. We are all still in our pajamas and plan to stay that way!!!! I love days like this..
Other than a nasty cold I caught we are all in good health. I pray that that families that are not so lucky still get to enjoy some christmas cheer!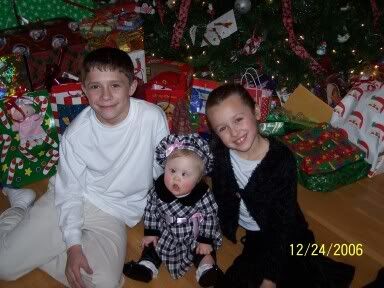 Happy Holidays!