Lets just say, I cant wait to go next year!!!!!! What an amazing experience to see so many beautiful people with Down Syndrome. The speakers were great but just getting to know others was the best thing about the whole experience. I had people coming up to me asking if that was Mayson because they either recognized her from my blog or from the forums I belong to! I got to meet Carrie Bergeron-Desai, who is a self advocate and married to Sujeet Desai. Meredith Martin, who is also a self advocate and the sweetest thing ever!!! Chris Burke, or "Corky", from LIFE GOES ON was there, and many other wonderful people.
Another great speaker, was Kim Edwards, who is the author of the book MEMORY KEEPERS DAUGHTER. She has blown away by what the DS community has done after writing her book. If you havent read it yet, you MUST!
I feel so LUCKY to have been blessed with Mayson. Just look at the experiences we have already had as a family just because of her and her extra little chromosome. All the incredible people and families.... its simply amazing!


MAYSON WITH MEREDITH...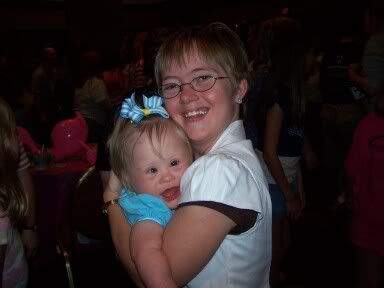 SOME OF THE CUTIES FROM MY DOWNSYN FORUM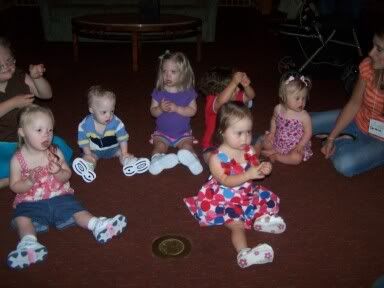 CAREY HOLDING MAYSON AND ME HOLDING CHELSEA...OUR LITTLE STINKERS!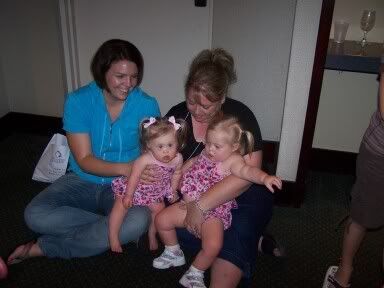 A GROUP SHOT WITH SOME OF MY T21 FORUM BUDDIES. WE ATE AT THE CRAYOLA CAFE.



MAYSON AND ISABELLA IN MAYSONS CRIB AT THE HOTEL...TWO PEAS IN A POD!