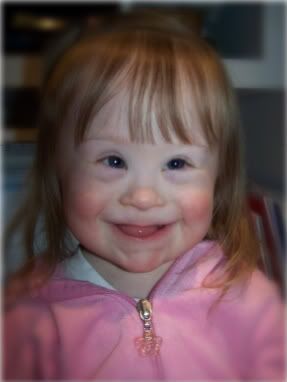 As I sit here and try and type an update, Miss cuteness decided to help out and of course I had to take a picture!! She was all smiles and it was just a little hard not to capture it!
We have been CRAZY busy here. Thats why I havent had much time to keep up on my blog. Jayden is in track everyday. Three days a week we leave here at 5:50m am to get him to practice on time! ugh... He is also in baseball which is twice a week unitl the real season starts and he has decided to go out for freestyle wrestling as well. Its just crazy!! Rylee has piano on Wednesdays and soccer three days a week. Lets just say I live in my expedition.
Miss Mayson has her own schedule too keep me busy too. She has speech on Tuesdays and Physical therapy on Thursdays. Story time is also on Thursdays which we do not miss!! Our local AEA comes twice a month for speech, early intervention and physical therapy as well. So thats 6 more slots a month we have to keep open!
Tonite, Mike and I were watching Mayson sit in front of her favorite mirror and play. All of a sudden she got on all fours and proceeded to stand right up from that position!! wooohooo!!!
She was so proud of herself! She keeps trying and trying and trying! She alway falls to her butt, but she is getting there! She got her reverse walker yesterday so we are on our way to walking soon!!! Hope you all have a great weekend!