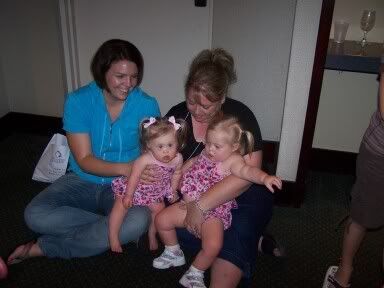 Mayson's best buddy Chelsea is taking her last Chemo!!! WOOO HOO!! (Picture is of Carey holding Mayson and Me holding Chelsea) We are so so so very excited. It's been such a long haul for her and her family. In honor of our sweet friend, I have some really cool beads I had blown from a glass

blower here in Iowa. She made them special in Down Syndrome colors. I am going to make two different bracelets out of these beads to the highest bidders. I will also add sterling and crystals if you would like!! I would like to donate the proceeds to Chelsea and her family.... It's the least I can do!
Starting Bid is $10.00 per bracelet and will continue until Saturday at Noon! Just post your bid!

Happy bidding and thanks for helping out such a wonderful family who mean the world to us!

EDITED TO CHANGE THE CUT OFF DATE. I WILL KEEP TAKING BIDS UNTIL MAY 23RD AT MIDNIGHT!!