We had a great 4th of July today! We always go to the annual pancake breakfast put on by our local fire department. It was yummy! After that we swam in our pool and then took naps...ohh it was so nice to take a nap!
We met up at my brothers to grill for supper and watch the 4th of July parade. It goes right by his house! Last year Mayson cried every time a fire truck would sound its horn. I was a little afraid of what this year might bring but she loved them! She sat in her own chair like a big girl and clapped and had a ball! She also found a new love for lollipops!!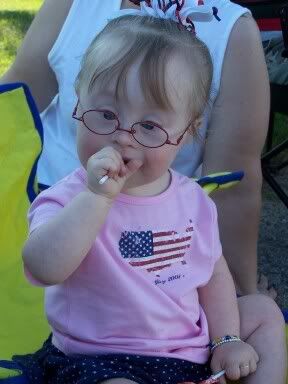 After the parade, we headed to the beach and let the kids swim until dark. They let off a great firework display there. Once again, lil miss sat in her chair all by herself and watched the fireworks with amazement! She clapped and said "ooooo". She sure is growing up.
I hope you all had a wonderful holiday!