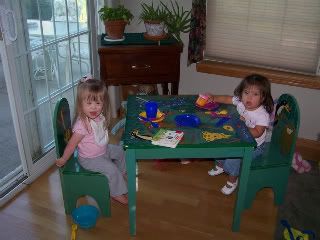 Wow, I am have been so bad about blogging. I just don't have the time to sit down and write like I used to. I miss it.
Wrestling has started so that will consume alot of my time. Rylee is still in Piano and starting volleyball this week! Mayson is still doing her usual therapies. She took 4 steps the other day. Haven't seen her do it since the, but I am sure more are on the way!
Here is Mayson and her best buddy, Bella. I sat them up to the Maysons little table and they jabbered and jabbered like two little ol' ladies. They pretended to use their silverware and cups. I sat there in awe, just watchig them....such great imaginary play!
Also, a big thank you to my friend Rebecca and her beautiful work on my blog!! She is coming to spend a girls weekend this weekend! Should be a great time!