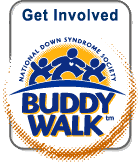 This year is the first year our area is doing a BUDDYWALK which is pretty fitting with the birth of chromosomally inhanced babygirl. Many ask, what is that? Well, its when families with children and adults with down syndrome get together and walk to promote acceptance and inclusion of people with Down syndrome and to raise funds for local and national education, research and advocacy. Our family is asking all our friends and family to come and walk with us and be apart of Mayson's Marchers!
For all that can, I have registration forms, so please email me(amos1215@aol.com) and I will get you one! If you can't walk and would like to donate for the fundraiser, you may send a check directly to us written out to HADSA. Or, you can use your credit card and pay by our pay pal account. (smflegeassoc@yahoo.com). Our goal is $500. Any little amount will help and what this money does for these kids is incredible!
Thank you all so much for your love and support for our sweet little M&M!