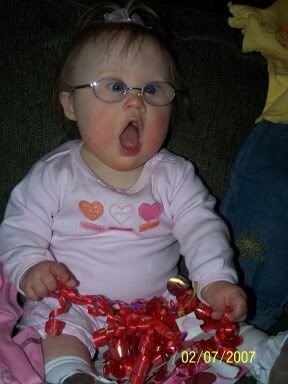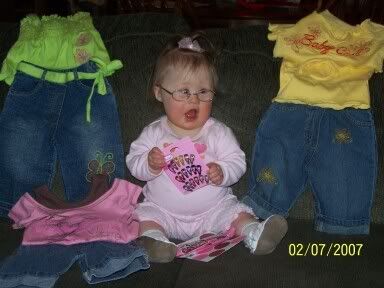 Mayson had her follow up appointment with a specialist to see how the glasses are working. So far all is good! There is NO sign of them getting worse and she is still cross fixating, which means she is not shutting down one eye or the other! That is very important when it comes to the condition she has. Most kids shut the one eye down completely which developes into blindness in that eye. Those kids are also normally patched and then have corrective surgery. Mayson, on the other hand uses both eyes. ( Its so hard to explain. )
Now to give it time and see if it will start correcting. We still may end up down at the University of Iowa to a specialist there. But they want to give her time first. If there is no improvement by the age of 2 she will have to have surgery.
Mayson had a surprise in the mail yesterday too. She got her first birthday present from her boyfriend Garrett! He sure knows how to win a ladies heart! Look at what he got her!!! Thanks Buddy!